Bakker Brothers present their newest varieties at annual Middle East trial field days
The Netherlands
March 27, 2012
On 20 and 21 March, Bakker Brothers presented their latest development in varieties during the annual Middle East Trial Field Days. Over 80 delegates were invited to join Bakker Brothers in the Jordan Valley.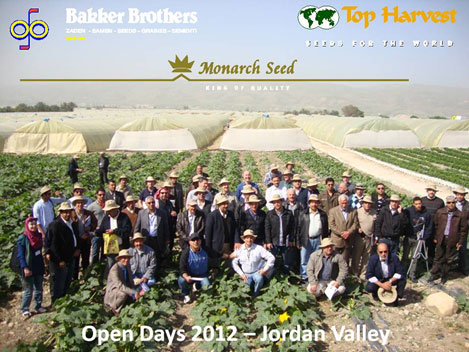 The first day, the program included
a presentation by Mr Wouter Bakker about Bakker Brothers in general: what does Bakker Brothers stand for and what can be expected of Bakker Brothers in the coming year(s)
a scientific lecture by Dr Fuad Salameh about cucumber cultivation
a variety presentation by Mr Kamal Joudeh
The second day the group visited the trial fields, which consist of:
3 open fields with squash, beans and eggplant
23 tunnels with hot and sweet pepper, tomato, eggplant, cucumber and pole beans.
The participants were able to walk through the trial fields to take a close look at the promising material. Each group was accompanied by an engineer and/or breeder to answer their questions.

Bakker Brothers herewith likes to thank all delegates, Dr Fuad Salameh and all others who helped making these days a success.
More news from: Bakker Brothers
Website: http://www.bakkerbrothers.nl
Published: March 29, 2012