Monsanto's vegetable seed division exceeds expectations at Fruit Logistica 2012
Bergschenhoek, The Netherlands
February 14, 2012
Monsanto's Vegetable Seeds Division showcased its new branding at the Fruit Logistica with its leading vegetable seeds brands, De RuiterTM and Seminis® during the 2012 edition of Fruit Logistica. As part of their customer approach Monsanto presented its new chain team and brand strategy. Two of the presented innovative products were Beneforte®, the new super broccoli and Frescada® and Salaverde® Lettuce, Monsanto's newly developed lettuce brands.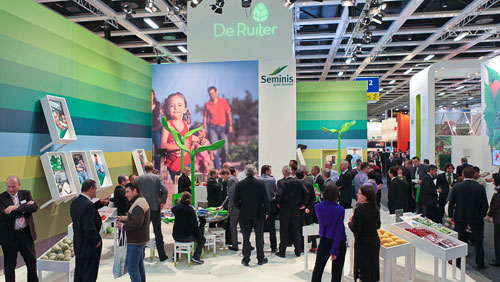 Chain Experience
Monsanto considers food and vegetables as a joint effort of all partners in the chain. Its goal is therefore to support all partners in the process, from seed supply to plate. A special team of Chain Managers explained during the Fruit Logistica their set up to serve their customers. Sean Gardner, Monsanto's Chain Director for vegetables in Europe-Middle East-Africa, explains: "Our team consists of professionals who optimize processes, who search for chances and stimulate effective cooperation in the entire chain.

Brand Experience
Agriculture and customers are at the core of everything Monsanto does. There goal is to help customers profitably meet market needs and provide them with exactly what they've asked for in a vegetable seed company. Monsanto was pleased to introduce to you the refreshed Seminis® and De RuiterTM brands. The repositioning of the two brands was received enthusiastic by the market.

Seminis and de Ruiter
Growers face unique challenges and have specific growing conditions within their production environments, and they deserve product performance and the crop expertise to match. So, going forward, Seminis will be dedicated to Monsanto's open-field and unheated greenhouse products, and De Ruiter will be focused on glasshouse, heated greenhouse and rootstock products.
The brand is the promise Monsanto makes to customers regarding what value they can expect. That promise for Seminis as well as De Ruiter is outstanding growing potential. With Seminis, Monsanto focuses on giving growers the freedom to focus on their goals and real passions, the freedom to grow the very best crops, to grow their business and to build their futures.
With De Ruiter, Monsanto focuses on providing growers a sense of pride in what they grow and great satisfaction in delivering the very best products to the marketplace.

Product Experience
Beneforté®; the new super broccoli
Broccoli is one of the most nutrient-dense foods known; it offers an incredibly high level of nutrition and makes most top ten lists of good for you super foods. Beneforté broccoli is even more than a good thing. It is the result of over ten years of cross-pollination and selection to combine the best attributes of commercial broccoli with a wild broccoli variety found in
Southern Italy. This wild broccoli, related to the familiar broccoli we eat today, has a unique, increased ability to produce phytonutrients such as glucoraphanin. This broccoli will be one of Monsanto's features during the Fruit Logistica.

Frescada® and Salaverde® Lettuce are Monsanto's newly developed lettuce brands
Frescada Lettuce: is a new variety of lettuce that in taste tests appeals to consumers who currently enjoy iceberg lettuce and those who enjoy romaine lettuce. Frescada Lettuce compared to iceberg lettuce is more flavourful, has a greener colour and is more nutritious and compared to romaine lettuce it is crunchier/crispier texture and juicier, less bitter, sweeter flavour.
The second lettuce innovation is Salaverde which has the butterhead taste, but a crunchier leave. Because of its shape and firmness it can be positioned as a convenient butterhead type. SalaVerde combines the excellent qualities of romaine and round lettuce: the heart leaves of round lettuce, the elongated shape of romaine. The leaves are tender but at the same deliciously crisp; the heart leaves bright yellow, the outer leaves green. Salaverde® is a Behr registered brand.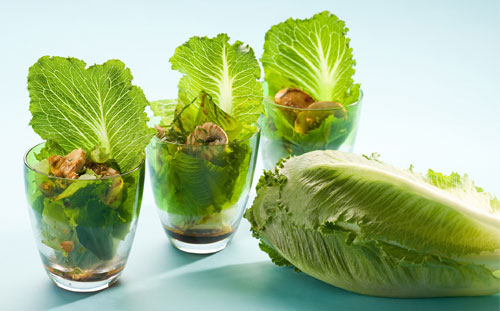 Culinary Experience
Besides showing the new innovations Chef and food designer Guus Vredenburg gave the crowd the ultimate taste experience with delightful snacks which revealed several different tastes of tomato and pepper. As a special treat Guus organised a pepper experience workshop together with the WUR on Thursday for some of our key partners in which they where trained to discover special taste and flavours in different types of pepper.

More information on upcoming events and fairs can be found on www.monsanto.com/livingproof.
More news from: Monsanto Vegetable Seeds
Website: http://www.seedquest.com/yellowpages/americas/usa/s/seminis/default.htm
Published: February 16, 2012