Innovation crossroad for soybean and peas at XiteBio Technologies
Winnipeg, Manitoba, Canada
October 24, 2011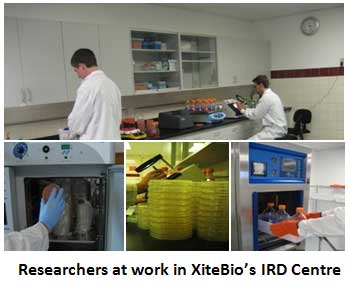 To effectively thrive in the marketplace you essentially need to innovate and think outside the box beyond the traditional way of creating new products for agriculture.

XiteBio Technologies Inc., a Manitoba based, privately owned, Canadian ag-biotech company, is exactly following this mantra. They are developing the next-generation "go green" agricultural products that not only increase crop yields at reduced input costs and benefit farmers' bottom lines, but are also environmentally responsible. XiteBio's head office and IRD (Innovation, Research & Development) Centre is located in Winnipeg, Canada. They research, test and develop innovative and value-added biological products for today's and tomorrow's farmers in their state-of-the-art IRD Centre. Their product line includes supplements (inoculants, biofertilizers, additives & plant growth regulators), biopesticides and organic fertilizers. XiteBio's primary focus is to provide dealers/distributors and farmers in mid-western US & Canada with environment friendly, unique, efficacious biological products with cost-competitive pricing & higher margins. "We see every farmer in North America using at least one great biological product as their essential production tool" says Dr. Manas Banerjee, CEO of XiteBio Technologies and an adjunct professor of Biology who has had long term academic involvement in soil plant microbial interactions both in the public and private sectors.

Microbial products for sustainable agriculture, including inoculants, are continually improving and have been since Rhizobium inoculants for legumes were first used in the 1800s. "At XiteBio, we are inspired by nature and create products that enhance the natural properties of plants and soils. That's why we are proud to bring the Advanced Growth Promoting Technology (AGPT) with rhizobia for legumes that is second to none", states Banerjee. They believe that they have set the stage for more profitable legume production in North America.
How AGPT works:
Advanced Growth Promoting Technology or AGPT not only introduces optimum numbers of rhizobia into the soil, but also invigorates the natural soil microflora, including the native rhizobia, and creates synergy between them. Different soil types support different microflora, many of which are beneficial to crops. The native microbes (bacteria, fungi, algae, etc.) living in the soil are stimulated by AGPT and all these organisms can then confer their beneficial impact upon the crop. This is what makes AGPT a revolutionary technology - creating synergy between a rhizobial inoculant and the invigorated native microflora.
"Inoculants with AGPT provide all the advantages of traditional Rhizobia plus the benefits of the numerous beneficial organisms that may already be present in the soil", explains Banerjee. The AGPT inoculant enhances the microbial activity resulting in improved soil health and ensuring that crops are healthier, more vigorous and higher yielding. Presently, AGPT inoculants are formulated for legumes, and XiteBio is working to develop this technology for other crops as well.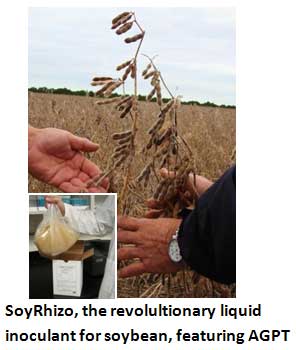 Basic Characteristics of AGPT:
Innovative, user friendly, ready to use liquid formulation
Invigorates native rhizobium population to work efficiently with introduced rhizobia
Works under different soil and environmental conditions
Encourages greater root nodulation and boosts higher nitrogen fixation
Enhances plant performance resulting in higher yields
Natural, contaminant-free and GMO-free product
Environment-friendly soil health promoter
XiteBio® SoyRhizo for soybean and XiteBio® PeasRhizo for peas & lentils are currently available with AGPT. SoyRhizo and PeasRhizo are two newly formulated rhizobium based products targeted for US and Canada. These innovative products allow high survivability of introduced bacteria across various environmental constraints, thereby ensuring higher yields and greater productivity. On-seed high survivability also resolves the issues related to seed treatment chemicals by allowing the farmers flexibility in terms of choice of seed treatments. Inoculants with AGPT for other legumes, wheat, canola, barley, corn and alfalfa are under experimentation at XiteBio's IRD Centre in collaboration with different US universities.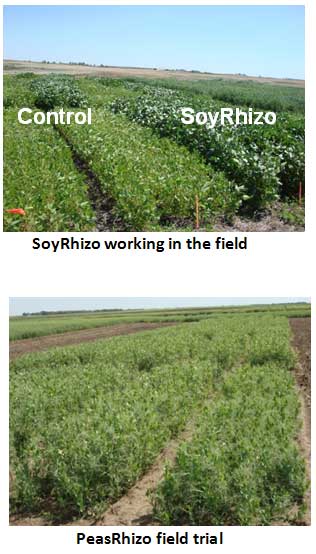 SoyRhizo for Soybean:
SoyRhizo is XiteBio's revolutionary new liquid inoculant for soybean. It features Advanced Growth Promoting Technology (AGPT) combined with a low-volume versatile liquid formulation that can be applied on-seed or in-furrow. SoyRhizo results in healthier plants and better yields.
Specific Features of SoyRhizo:
Provides over two billion viable Bradyrhizobium japonicum per gram
Has an extended shelf life of over two years
Compatible with all popular soybean seed treatment chemicals
PeasRhizo for Peas & Lentils:
PeasRhizo is XiteBio's exciting new liquid inoculant for pea and lentil. It features Advanced Growth Promoting Technology (AGPT). PeasRhizo can be applied on-seed or in-furrow to deliver better plant vigour and higher yields.
Specific Features of PeasRhizo:
Provides over 7.2 x 108 viable Rhizobium leguminosarum biovar viceae per gram
Has an extended shelf life
Compatible with all popular pea and lentil seed treatment chemicals
Future Market Prospect:
The current market potential of SoyRhizo is over 78 million acres in the United States and about 3.5 million acres in Canada. Looking further abroad, a massive market for SoyRhizo exists in South America where over 70 million acres are under soybean cultivation in Brazil, with Argentina being another substantial soybean producer.
In Canada there are 3.7 million acres of pea and 2.9 million acres of lentil under cultivation. In the US, over 1.5 million acres of pea and lentil are cultivated each year, 75% of which are grown in North Dakota and Montana. This represents a significant market for revolutionary and innovative products like PeasRhizo that boost production at a reduced input cost. "By being able to offer premium products at a lower input cost, SoyRhizo and PeasRhizo are well positioned for entering the North American inoculant market", indicates Banerjee.

SoyRhizo and PeasRhizo are currently launched in the US and promising field trial results have been obtained from Canada. XiteBio Technologies will be releasing these eco-friendly products in Canada once they are registered by the Canadian Food Inspection Agency (CFIA). XiteBio is also working on AGPT inoculants for use on corn, canola, wheat, barley, alfalfa, flax, sugar beet and vegetables, and these will soon be commercially available.
For further information on AGPT or XiteBio's products, please contact Matthew Doering at 204-257-0775 or info@xitebio.ca or visit www.xitebio.ca.
More news from: Xitebio Technologies Inc.
Website: http://www.xitebio.ca
Published: October 24, 2011