Australian Herbicide Resistance Initiative commits to weed research initiatives with RIRDC funds
Australia
March 15, 2011
Significant new funding for the Australian Herbicide Resistance Initiative (AHRI) from the Rural Industries Research and Development Corporation (RIRDC) highlights AHRI's commitment to tackle big research issues.
The University of Western Australia (UWA) based AHRI research group has been awarded five RIRDC grants commencing in July 2011. The new research projects aim to: investigate a method for weed seed destruction at harvest; develop diagnostic tools to detect non-target- site metabolism-based herbicide resistance; quantify the weed fitness costs associated with resistance; predict rates of herbicide resistance evolution to pre-emergence herbicides in ryegrass under a range of climatic and management scenarios and; develop a toolkit for farmers and landholders to assess the longevity of weed seeds in the soil.
Leading resistance expert and Director of AHRI, Professor Stephen Powles believes this research will benefit Australian growers and future management of herbicide resistant weeds.
"Herbicide resistance and weed issues are an important area requiring research," Professor Powles said.
"Australia has the world's greatest herbicide resistance problem costing the grains industry in lost production each year. Understanding resistance evolution from the molecular level right through to management at the paddock level is essential to ensure the future of the grains industry," he said.
Funding will enable further evaluation of the Harrington Seed Destructor (HSD) in eastern Australia led by Dr Michael Walsh.
"The RIRDC funds provide a great opportunity to showcase the HSD to eastern states farmers and assess the HSDs potential in different cropping systems. In addition, growers will have an opportunity to learn more about harvest weed seed management techniques through a series of workshops destined for South Australia, Victoria and New South Wales," Dr Walsh said.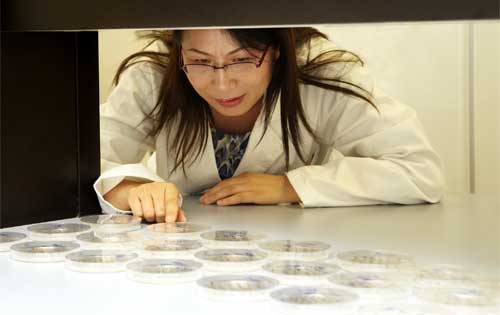 Dr Yu examines ryegrass seedlings.
Dr Yu Qin will develop a diagnostic tool to detect non-target–site, metabolism-based resistance which will help determine and monitor the extent and frequency of non-target-site metabolism based herbicide resistance in Australian major weeds and help with future biochemical and molecular studies to identify cytochrome P450 genes that are responsible for enhanced herbicide metabolism.
"While target-site gene mutations that endow herbicide resistance can be precisely identified and rapidly diagnosed using PCR-based molecular markers, non-target-site metabolism based herbicide resistance is relatively difficult to positively diagnose," Dr Yu said.
Dr Roberto Busi will investigate the rate of resistance evolution to several pre-emergent herbicides under a changing climate.
"This research will allow us to make predictions about resistance evolution risk to new and current herbicides and how this risk can vary across geographic regions. Modelling simulations will be performed in collaboration with Dr Michael Renton at UWA to better understand how climatic variability may affect herbicide resistance evolution. This information will help farmers and agronomists minimise the risk of herbicide resistance particularly to herbicides not yet commercially available," Dr Busi said.
Dr Rowena Long will develop a toolkit for weed managers and researchers to assess the persistence of weed seeds in the soil.
"We know that a crucial part of managing weeds is understanding how long their seeds remain alive in the soil seed bank, and this toolkit will assist growers by providing the tools with which to estimate seed persistence. We hope this will then allow growers to implement control measures to drive weed numbers down," Dr Long said.
Meanwhile, Dr Martin Vila-Aiub will return to Australia from Argentina to investigate the fitness costs associated with ACCase and ALS resistance mutations in ryegrass.
"Herbicides remain the most cost effective form of weed control and their sustainability is essential for world food production. Through our continued research we hope to ensure herbicides will continue to be an effective tool in controlling crop weeds for future generations," Professor Powles said.
More news from: Australian Herbicide Resistance Initiative (AHRI)
Website: http://www.ahri.uwa.edu.au/
Published: March 15, 2011