Winnipeg, Manitoba, Canada
June 30, 2008

To be unique in the market place you need to think big and think outside the realm of the narrow focus.
Brett Young Seeds, the premium forage seed company in Canada is doing exactly that. They are not only focusing on seeds, but beyond. They are expanding their horizon by introducing innovative value-added products to seeds. Brett Young Seeds is a privately owned Canadian company, and has been since 1934 existed in the province of Manitoba with its head office is in Winnipeg, Canada. With a complete line of both forage and grass, and special crops products, BrettYoung is ready to serve customers anywhere. Ever at the forefront of seed technology, BrettYoung is continually improving its existing seed varieties and creating new ones - always with the ultimate goal of maximizing return on investment for the grower.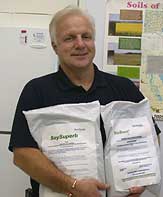 Recently, Brett Young Seeds consolidated all its existing product brands under one brand, "BrettYoung". "To compete in today's market place we need to be focused yet flexible. That's why we are introducing some exciting new products, specifically our second generation Ogura canola hybrids, hybrid alfalfa and the biological growth promoters" - says Mr. Lloyd Dyck, CEO of BrettYoung (photo).

In 2001, BrettYoung's commitment created a new R&D division that represents diversification and value-added to the corporate seed business. BrettYoung's foresightedness on plant growth promoting rhizobacteria (PGPR) research and development program have already resulted two unique bio-products and hopefully many more to come in the future. Dyck explained "our recent accomplishment was to develop a state of the art Microbiology/Biotechnology Laboratory on the company premises and then to utilize this facility to develop new PGPR inoculant (BioBoost) for canola, which is the first PGPR inoculant registered in Canada by Canadian Food Inspection Agency (CFIA)". This inoculant has been expanded to soybean (SoySuperb) and under experimentation for corn, alfalfa and turf by BrettYoung's R&D team. "These new PGPR based inoculants are patent protected and exclusively owned by BrettYoung. So, with proper formulations we should be able to get into the North American as well as other markets quite easily with a huge competitive advantage" says Dr. Manas Banerjee, Director of Regulatory Affairs & Business Development at BrettYoung.

What is BioBoost?

BioBoost is the BrettYoung's new patent-pending seed inoculant for canola developed to enhance canola yield. The product is a beneficial plant growth promoting rhizobacteria (PGPR) that enhance plant growth. The active ingredient of the product is a bacterium called Delftia acidovorans RAY209.

What is PGPR and how does it work?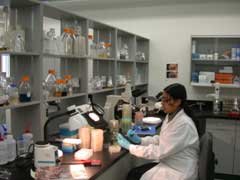 Dr. Laila Yesmin, BrettYoung's lead scientist working on PGPR technology at the R&D Lab
Bacteria from the root region (rhizobacteria) that colonize plant roots and stimulate plant growth are called PGPR. Postulated mode of actions are: nitrogen fixation, effect on nodulation in legumes, hormone production, effect on nutrient uptake by roots, enhance plant growth by siderophore production and enhance plant growth by biocontrol activities.

Features of BioBoost:
● Naturally occurring PGPR inoculant for canola
● Sterile peat based formulation
● Over 5 months of shelf life
● Helix fungicide compatible
● 44 days on-seed window with Helix fungicide
● Better vigor and healthier canola plant
● 6-10% canola yield increase
● Environment friendly biological seed treatment
Besides, BrettYoung is also working on a liquid formulation of BioBoost that can be used as foliar application on canola with glyphosate or Round Up herbicides in a tank mix.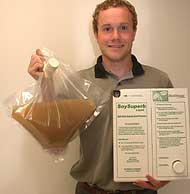 What is SoySuperb?

SoySuperb is the first commercial growth promoter that combines BrettYoung's PGPR technology and nitrogen fixing Bradyrhizobium japonicum in one package that is easy to apply on seed and boosts soybean growth, development and yield. "SoySuperb utilizes the synergy of two superior bacteria working together resulting in the higher net return potential for the soybean farmers" Banerjee clarified. "Initially SoySuperb was just a peat based product but as per the end-users demand BrettYoung quickly developed the liquid formulation of SoySuperb, a seed applied dual action growth promoter that maximizes soybean yield and is available in the US market" reiterates Dyck.

Features of SoySuperb liquid:
● Naturally occurring PGPR based soybean growth promoter
● Sterile liquid formulation
● Over 8 months of shelf life
● Apron Maxx, Cruiser Maxx and Trilex fungicides compatible
● Better vigor and healthier soybean plant
● Enhance nodule number in plant
● 5-7% soybean yield increase
● Environment friendly biological seed treatment
Potentials for Growth Promoters:

The current market potential of BioBoost to be applied in canola is about 14 million acres in western Canada and 1.3 million acres in northern United States. With the emphasis on biofuel generating from canola, the Canadian canola acreage is expected to be about 16 million acres within 5 years with some expansion in the US canola acreage as well. Beyond North America, there is a huge European rapeseed market that exists for the product BioBoost as well. The potential market for SoySuperb is even bigger. The 75 million acres in US and 2.5-3 million acres in Canada under soybean cultivation is the potential SoySuperb market. Beyond North America, a huge market exists in Latin America especially in countries like Brazil and Argentina. BrettYoung thinks that there is an enormous market potential in North America and other parts of the world to increase crop production via a biological treatment like PGPR inoculants.

"Currently, our inoculant sales could be in the western Canada and US market for BioBoost and in US market for SoySuperb. Because these are new innovative products the upcoming challenge is to go into the market by focusing our opportunities in the inoculant industry" says Banerjee. According to Canadian Association of Agri-Retailers (CAAR) BrettYoung's BioBoost technology has been selected as Top Ten New Technology in 2005 in Canada. From the market survey as well as the commercial launch of BioBoost and SoySuperb, the company believes that they have already seen the big demand for both BioBoost and SoySuperb inoculants in Canada and US. The company is also working on growth promoters for corn, turf & forages and hopes to release them commercially some time in the future. BrettYoung, not only focusing on seeds but beyond.

For further information, please contact Andy Steinberger at 701-430-1554